It's championship season in collegiate League of Legends and the LoL College Championship begin later today. There is a bevy of quality games awaiting us all, so we're taking the opportunity here at CSL to give you a viewing guide, so to speak, for this collegiate esport extravaganza.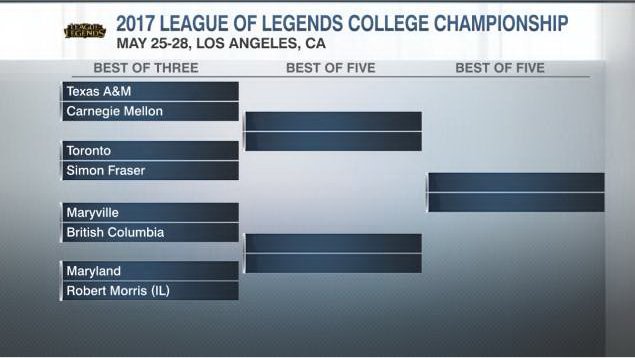 Image Credit: ESPN.com
Fan Favorite: Robert Morris University (IL) (Wildcard)
It seems a bit weird to say that a wildcard team is the favorite in this tournament, but this team is nothing if not resilient. RMU knows both success and adversity and stands as the longest tenured scholarship-based esports program in North America. They have been incredibly dominant and disappointing in nearly equal measure, but they still find a way to make it to the big dance every year. With two of their nemeses facing off on the first day of competition, you can only imagine that the Eagles are waiting with grim smiles and bated breath as they begin their sprint toward the ultimate prize.
Day 1 Series to Watch: UBC eSports Association (Wildcard) vs. Maryville University (North Winner)
There are plenty of arguments for other series to be the one to watch on day one of the collegiate championship, but UBC vs. Maryville has so many good storylines. Firstly, this is an old blood versus new blood narrative, as UBC is defending back-to-back collegiate titles against a rising star in MU. Maryville took down another Old Guard power in Robert Morris (IL) to win the North Region in an extremely close series, while UBC nearly scored a perfect game in the West Region finals against cross-town rivals Simon Fraser before hitting an Iron Curtain-esque defense that swung the series back in SFU's favor and sent the defending college champs to the Wildcard Tournament.
Burning Questions: Has UBC fixed the problems that led to their loss to SFU?
Can Maryville keep up the momentum and continue to run the gauntlet to the championship?
Dark Horse: Simon Fraser University (West Winner)
As odd as it is to choose a wildcard as the favored team in this tournament, it is equally odd, at first glance, to choose the team that upset the two-time defending collegiate champions as a dark horse. That, however, is exactly what I am going to do. SFU is the classic plucky underdog story. Two years ago, they were banned from college competition for a year for using a ringer. Last year, they almost made a triumphant return, taking UBC to five games in their regional finals before losing. This year, they overcame the obstacles of yesteryear and made a stunning run to the college championship bracket. The knock on SFU, however, comes from how they beat UBC. Despite the 3-1 final scoreline, it was anything but convincing. SFU managed only a single objective take in game 1, and were consistently on their back foot in the early parts of the game. They won with grit, grinding out long, fatiguing sieges before sallying forth to snatch victory from the jaws of defeat. The question here really is whether or not SFU can shore up those early innings and show us some more dominant overall play as we head into the biggest bracket run of their college careers.
What series are you looking forward to? Got a favorite team that you expect big things from? Let me and CSL know on Facebook and Twitter what your thoughts are on the last big collegiate LoL event of the season!