With Riot's announcement of the International College Cup, there's been a lot of attention drawn to the collegiate circuits around the world. Most of us are familiar with the happenings in the North American scene with Collegiate Starleague and the uLoL Campus Series, but other countries have their own respective collegiate competitions as well: National University Esports League (UK), E-University League (Portugal), University Esports Germany (Germany), just to name a few. Of course, there are quite a few more countries in Europe than in North America, so that's where the University eSports Masters comes into play.
Image Source: LeagueofLegends.com
What is the International College Cup?
The ICC is a collegiate League of Legends event being held in China in mid-July where 12 teams from around the world will compete for a prize pool of 100,000 RMB (China's currency). In addition to that, the top two teams of the college cup will advance to Taipei in August to compete in the 29th Summer Universiade, which is the collegiate equivalent of the Olympics.
The 12 teams will be representing: North America (2), Europe(2), China(2), Southeast Asia (2), Korea, Japan, Taiwan, and Hong Kong.
Of those 12 teams, we already know Maryville University and University of Toronto will represent North America, while Faculdade de Engenharia da Universidade do Porto of Portugal and Team Netherlands of the Netherlands will represent Europe.
What are the UE Masters?
Image Source: esports-news.co.uk
Just as the CSL is the premier competitive outlet for the NA scene, UE Masters is the European equivalent. One of the main differences is that Europe has national leagues based in various competing countries.. The UE Masters brings those programs under one competitive banner and allows them to compete internationally.
The program hosts over 300 universities and over 10,000 students from the various nations, usually comprising of six countries. Though, for the ICC, the number of represented countries comes up to eight: France, Germany, United Kingdom, Spain, Portugal, Netherlands, Ireland, and Italy. Each team qualified through their respective national tournament, and now compete to qualify for the ICC.
The Weekend
June 3rd and June 4th saw the eight nations battling it out for a spot in the ICC. The top two teams will qualify, but they'd have to run a the gauntlet of best-of-ones in a round robin on day one to advance to day two where the number one teams from each of the two groups would face the number two teams of the opposing group.
Group A and B each housed four teams.
Group A: France, Germany, Ireland, Portugal
Group B: Netherlands, United Kingdom, Spain, Italy
Group A saw Germany and previous UE Masters champion Portugal advance to the semi finals, while the Netherlands and United Kingdom reigned supreme in Group B.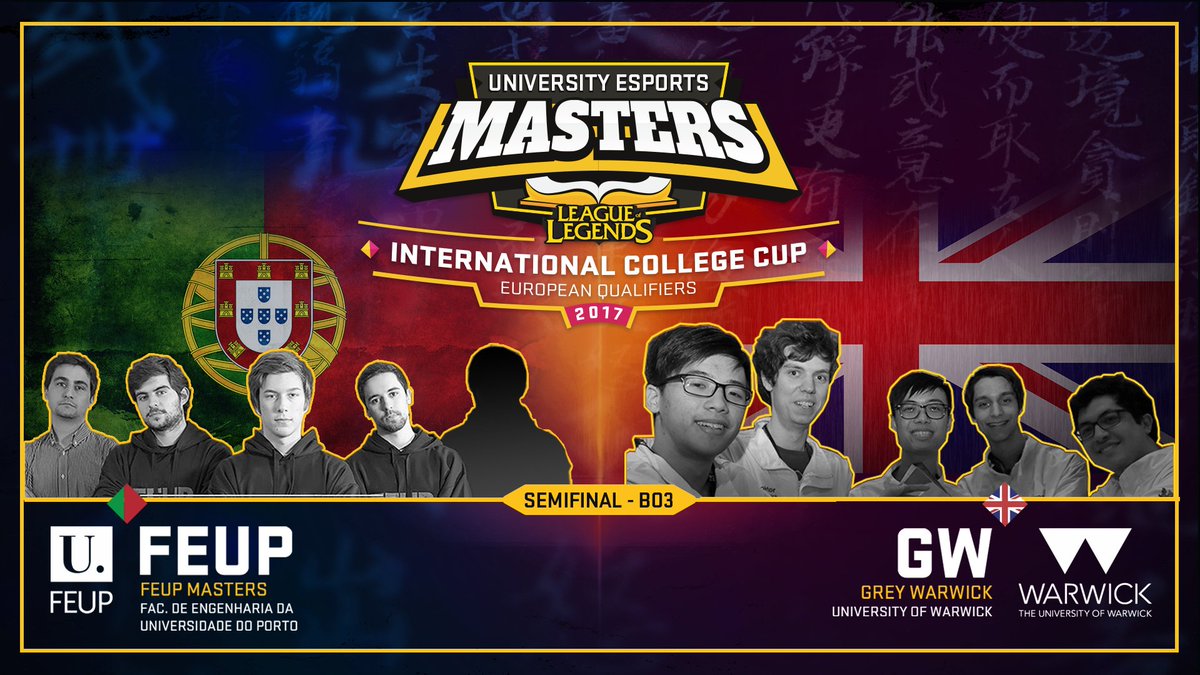 Image Source: League of Legends EU Twitter
One of the most fascinating aspects about the EU scene is their selection of pocket picks. UK pulled out a Heimerdinger mid and a Warwick top lane, while Portugal played a mid lane AP Nasus. I don't know what's going across the Atlantic, but even for collegiate, those pocket picks are crazy off meta. More power to them, though, because they got through the group stage.
Advancing teams faced their biggest challenge in the post group stage best of three games. That's not taking anything away from the group stage, but it was fairly obvious who would advance once the halfway point was reached. And with only four teams in each group, it meant every win and loss meant that much more. The Netherlands destroyed their group in extremely entertaining fashion, while both Portugal and Germany shut down group A with either team looking like they could prevail, but it was Portugal who took the top spot.
That meant Netherlands would take on Germany and Portugal would take on United Kingdom. Going in, Portugal was the odds on favorite. They performed better in their group than UK did in theirs, but they also had fan support being the 2016 UE Masters champions. Reading the comments sections from the website Riot released about the EU qualifiers for the ICC even saw many fans making their fandom for Portugal apparent.
Spirit bomb or no, Portugal proved too much for UK to handle. Game one saw the biggest challenge to the former champions, but come game two, they ran over their opponents with ease. The same may be said for Netherlands when they took on Germany, and Deutschland, despite a losing effort, didn't allow IVIoujin to pop off like he did in the entire group stage. But just like Portugal, the second game saw a complete 180 with Netherlands never letting up their onslaught.
MVP
42/6/25
That's the KDA of the star of this entire series: IVIoujin.
When I watched the Netherlands in the group stages, I knew they were going to advance and qualify for the ICC. There wasn't a doubt in my mind because IVIoujin is an 18 year old mastodon. Don't get it twisted, top and jungle are great too, and their bot lane is good… They do what they're supposed to do and don't die as often as the opponents. The point is, IVIoujin is by far the shining star on that team.
Playing Syndra, Cassiopeia, and Orianna over five games, he excelled on all three. He died only once per game in the group stage, and while doubling that in his only fault during game one versus Germany, he went on to go deathless in game two along with exacting his revenge 10 times.
I'm looking forward to seeing how lVloujin and company perform on the intercontinental stage against the world's best collegiate talent. If he performs there like he did in the qualifiers, he'll be a huge force to reckon with.
Curious for more details about the UE Masters and the ICC? Hit up our resident expert, Pheqes, on social media and let us know your thoughts on our Facebook and Twitter ASAP!